Competitive Playlist Preview
11th December, 2019
Hey everyone,

The team has been hard at work at the latest iteration of Switchblade's multiplayer offering, Competitive Mode. We know the community has been eager to see this mode return since it was originally previewed in our Closed Beta. We wanted to make sure the mode was up to a high standard and have both the structure and rewards to support its future sustainability. Today, we want to pull back the curtain on what we've been working on and give the community an overview of what to expect.
---
Let's Get Ready to Rumble
The main design goals behind our Competitive Mode is to provide players with a test of their abilities within the best representation of the Switchblade experience as well as offering unique rewards that show off your skills. To that end, we've been working on ways to ensure full 5v5 player games and build in systems to punish players who frequently quit games with severe enough deterrents to keep games full until the end.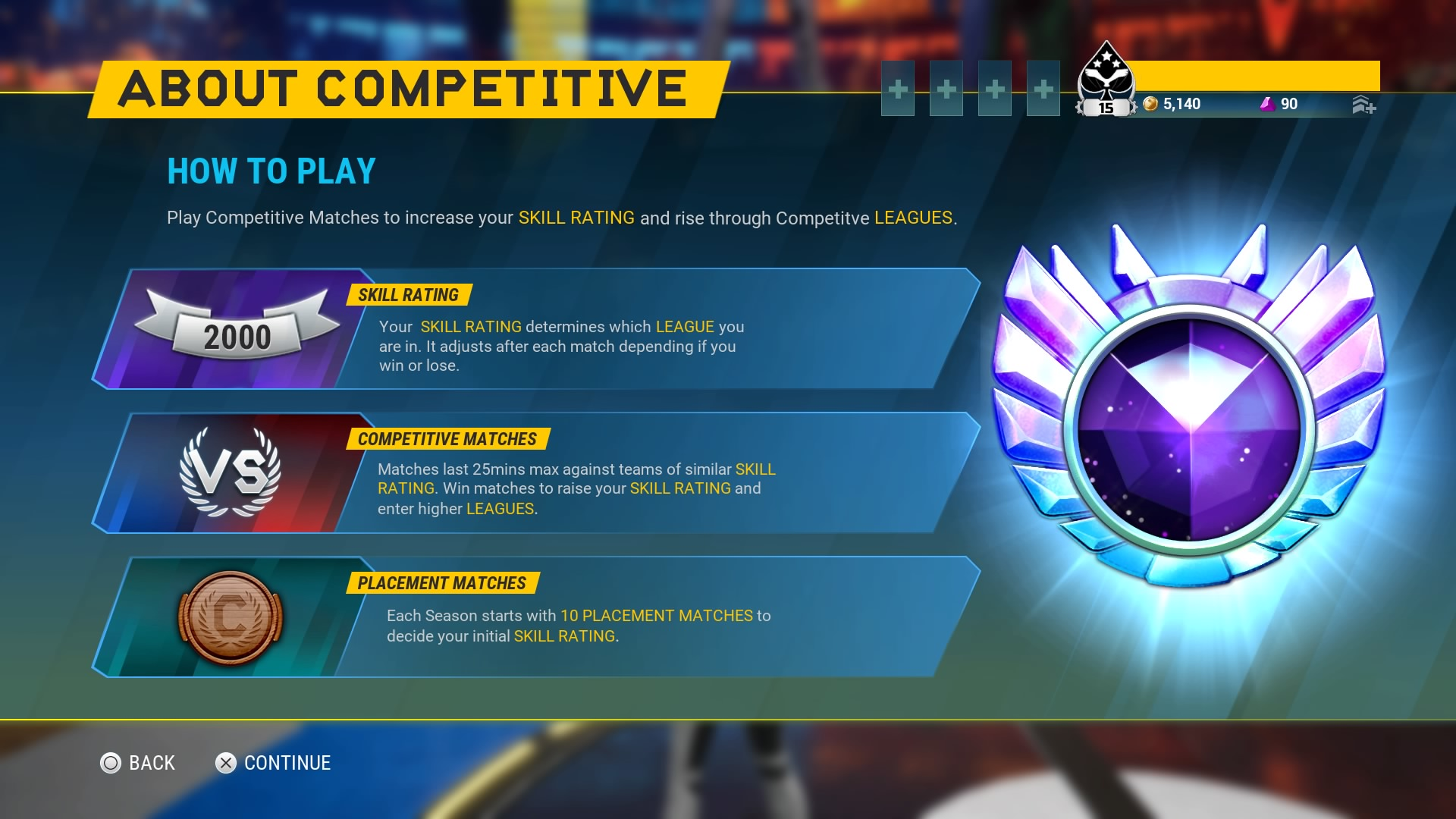 Switchblade's Competitive Mode will function in a similar fashion to a sporting league along with some familiar elements that are common to other competitive modes. After playing 10 placement matches, players will be assigned a skill rating (SR) on a scale of 0-5,000. These ratings will be divided amongst 6 leagues with 5 divisions within each league. There will also be a 7th league reserved for unrated players called the Contender league as well as an 8th league which will be reserved for the highest-rated players, called the Grand Champion league. This is a lot of information, so we've included a handy infographic below!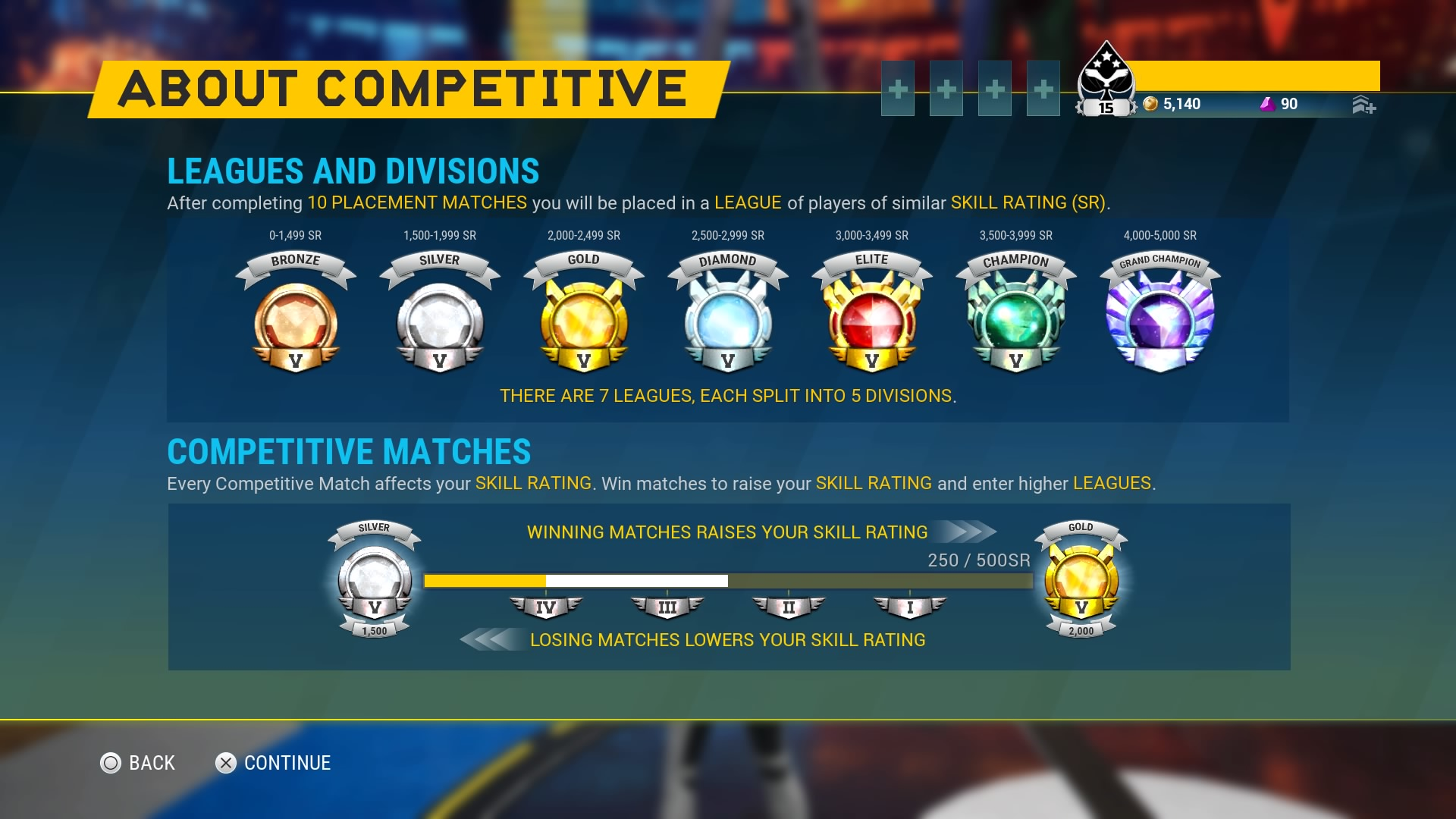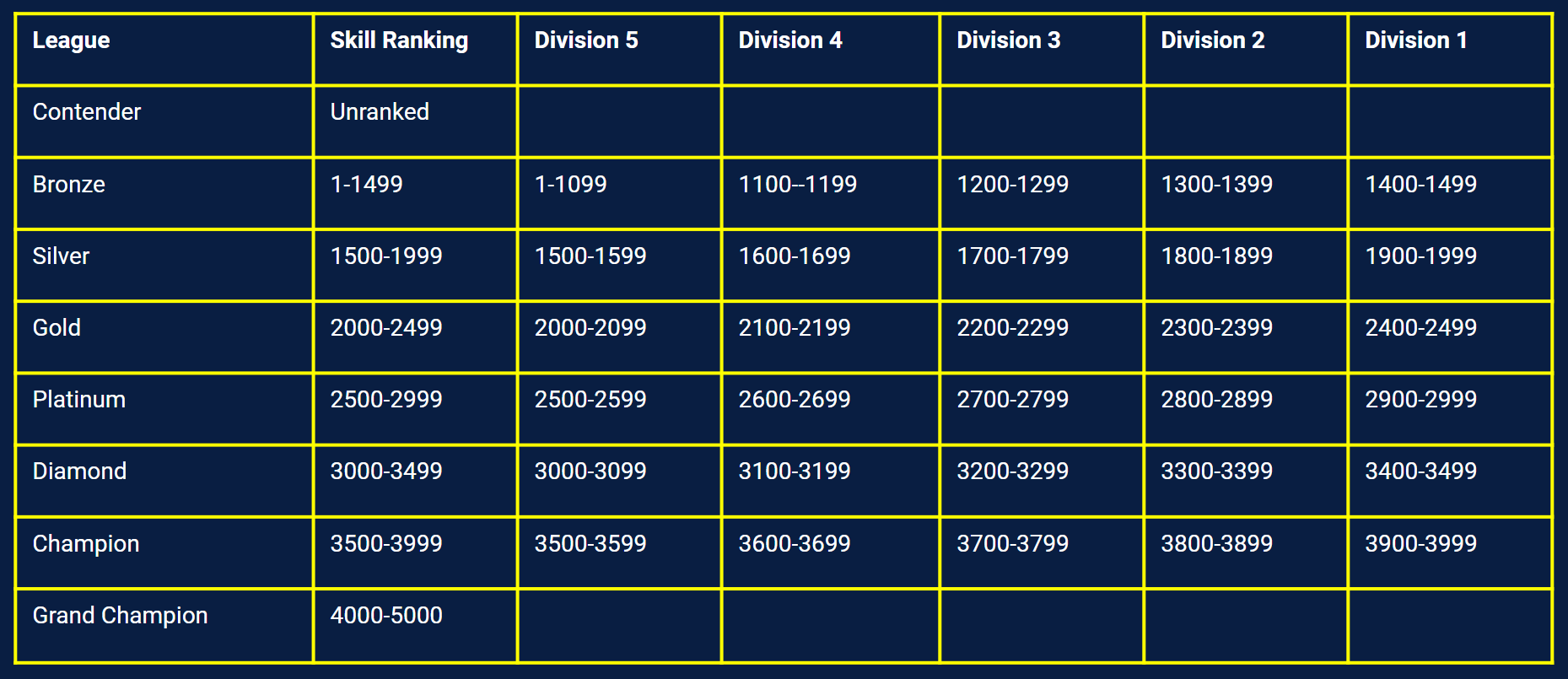 (click to enlarge)
As part of ensuring Competitive games deliver the best possible experience, the matchmaking system for this playlist will wait until it has found 10 players of a similar skill rating before transferring everyone into the pre-game lobby. After the game starts, any player who quits or disconnects from a Competitive game will be hit with an SR penalty. Please note that the player will not be replaced with a bot or a new late joined player. 
To The Victor Go The Spoils
After all your hard work in the Competitive playlist, we're sure you'll want something to show for it! At the end of the Competitive season, awards will be distributed to all players who completed their 10 placement matches and got placed into a league. Based on the highest league you reached, you'll be awarded a flight suit matching the colour of the league as well as the season's logo, "Hot Dog". As an additional award for those who place into Gold league or higher, you'll also receive a new Sundog skin!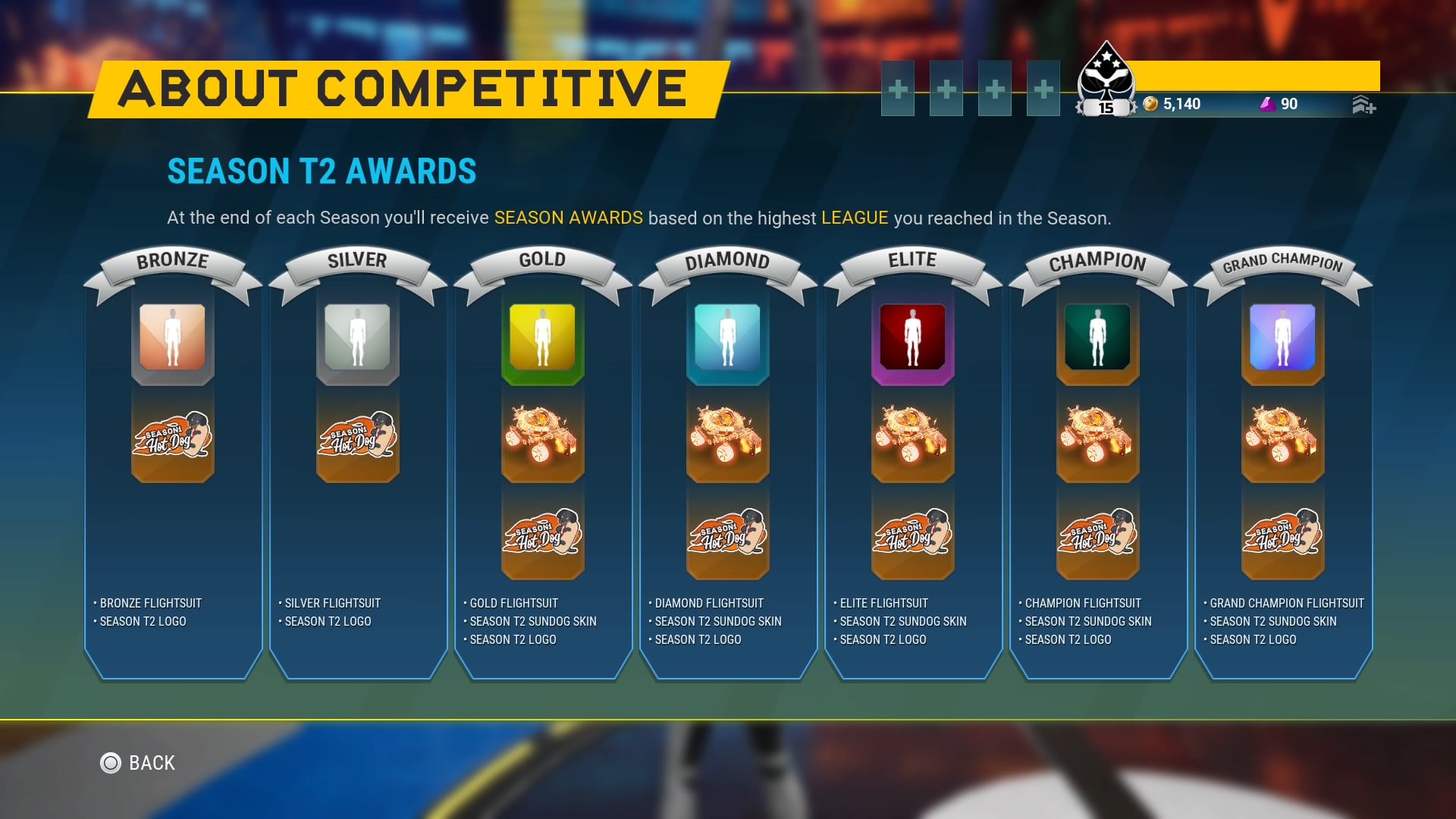 If you don't own The Sundog, we'll be offering everyone a 50% discount on purchasing it from the in-game store! It's a great opportunity to add the vehicle to your collection, especially if you earn the new skin as a reward. If you don't want to buy The Sundog, you can either wait for it to be featured in the daily rotation or purchase the legendary pack which gives full access to all of the vehicles in the game.
Be sure to wear these awards with pride as we feel they're the perfect accolade to show off your achievements in the Competitive playlist.

Competitive Testing Season
Whilst we've certainly put the Competitive system through its paces internally, setting it loose to the community can throw up a few curve balls or unexpected results. To that end, we'll be running a short test Competitive season in order to give things a good shakedown. This test season will last for two weeks, during that time we'll be collecting feedback on our social media channels and Discord server. The awards outlined above will not be awarded for participation in this test season and are reserved for Season 1. After this test season, Season 1 will start and last for 2 months.
At the moment, we're looking at launching Competitive Mode in the first weeks of January 2020, starting with our test season. This test season will last for 2 weeks and will award Bit Cash for those who participate. After the test season has come to a close, Season 1 will begin.
Festive Spirit
It's the most wonderful time of the year and to celebrate the festive cheer, we're bringing back the Christmas vehicle skins! These will be available for purchase from now until early January.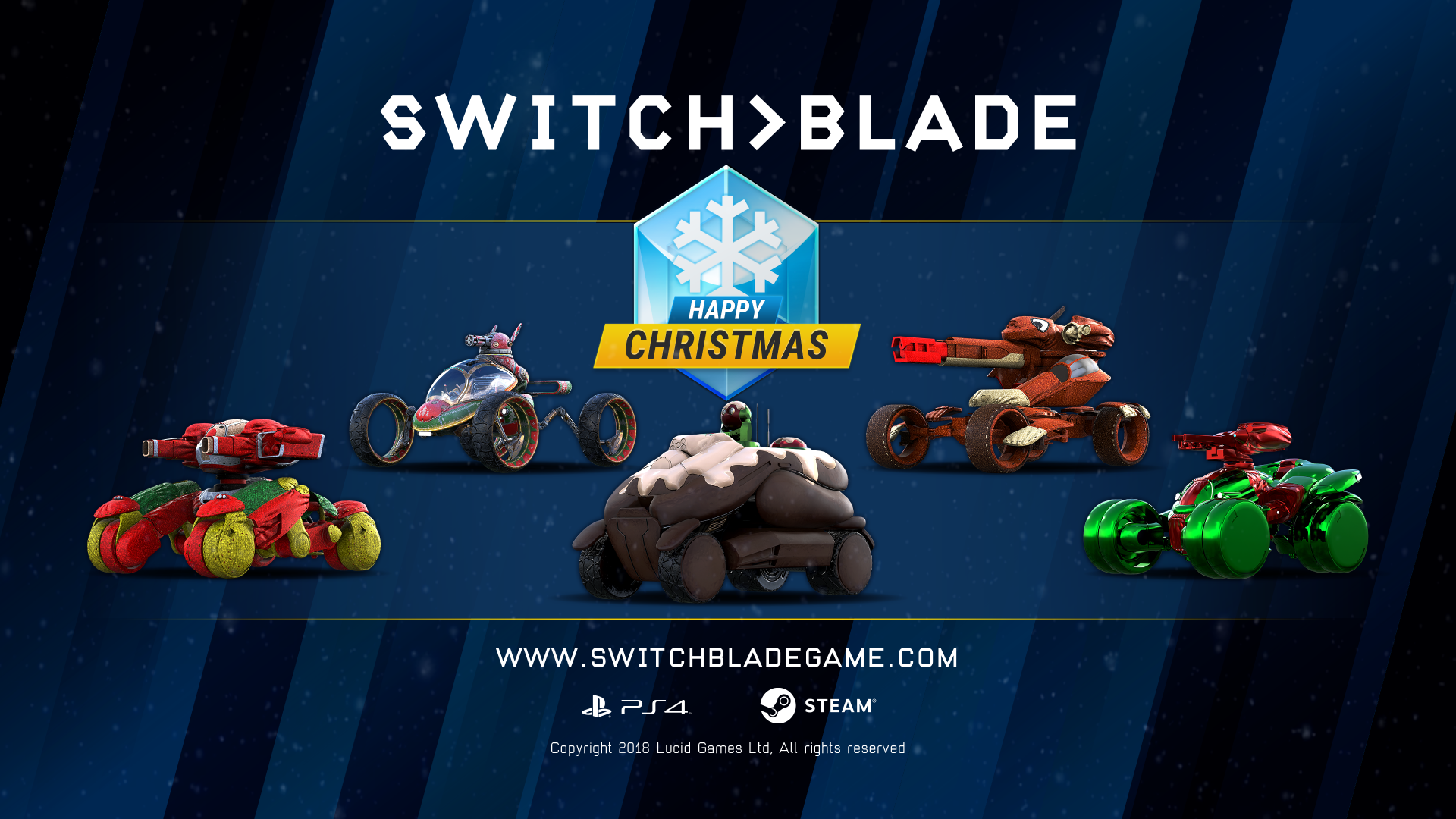 ---
We hope you've enjoyed this breakdown of what's coming to Switchblade in the Competitive Update. We're applying the finishing touches now and don't expect anything outlined above to change, but we'll be sure to let you know through the usual channels. The team is really excited to get the game mode out to everyone as soon as possible and we can't wait to jump in ourselves!