Competitive Season Two and the Future of Switchblade
28th May, 2020
Hey everyone,
It's been a while since we got an official update to the community on our blog, but we've been active as ever on our Discord server as we've watched you rise to the challenge of Competitive Season One. There's still some time to squeeze in a last-minute league promotion before the awards are distributed at the end of this week and we've been working hard to quash as many bugs as possible to help smooth out the experience.
Today, we're here to talk about Competitive Season Two and our new vehicle, Firebox! Arriving alongside it will be various bug fixes and improvements, which we'll be giving a brief overview of today, as well as a look at the future of Switchblade.
---
Get ready for round two!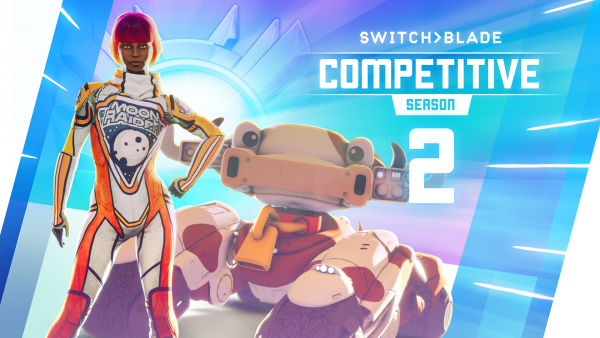 Whilst Competitive Season One didn't completely escape from a few bugs and server issues, it was still our best version of the mode we've produced so far thanks to feedback we received from the community during our early test seasons. We're really pleased with how it all came together as well as the overall community response it received! It was great to see you all diving in, completing your placement matches and facing off in a bid to become Grand Champions!
We've been monitoring the season closely, both via analytics of the entire player base as well as keeping our eyes and ears locked on our social channels for your feedback. We've got some changes planned for Season Two based on your feedback and our own observations. We're hoping they'll go some way towards addressing your concerns with Competitive Mode. Firstly, we'll be making tweaks to SR gains to better reward a players time investment in the Competitive playlist. Whilst progression at the top end of the SR system slowed down substantially in Season One, we feel this tweak will help mitigate that both at the early stages and towards the end of a season. We've also fixed a series of bugs that prevented SR penalties from being properly applied to players, we hope this encourages people to continue to play fair and not leave a full 5v5 game. To clarify, if you are not the first person to leave an ongoing competitive game and choose to quit out, you will receive a loss of SR that reflects losing a match. This will always be less than an SR penalty, which is reserved for those who cause an imbalance in teams during a competitive game by being the first to quit.
Season Two rewards will be scaled back a bit compared to what we offered in Season One. We wanted to respond to some community feedback about not being able to earn Battlepass One content now that the Battlepass is over. As a result of this, Season Two rewards will comprise of rewards from our first Battle Pass! A full explanation of the reasons for this can be found in the final section of this blog post.
With regards to balance changes, exact details will be in the patch notes but we've got some general changes and thoughts as to the direction we want to take things. Whilst we still want to try to maintain a sense of balance across the board, we recognise that the game can still feel somewhat slow compared to how the game played out in the second half of 2019. To try to bring back a greater sense of impact for players, we'll be buffing the base damage and healing of secondary abilities as well as increasing the rate at which it scales up with ability level. We feel that this change will help fights feel more decisive and less drawn out.
On the progression side of things, we will be raising the Tech Level cap from 600 up to 5,000! We heard this feedback from the community loud and clear, it just took us a bit longer than we anticipated to retool the system and get it implemented. For everyone who has been at level 600 for a while, now is your chance to start rising through the ranks once more! Furthermore, we've rebalanced the vehicle mastery system to bring it back into line with its intended design. You should feel yourself progressing through the ranks at a faster rate, even faster than when it was originally added to the game.
This is just a small taste of the overall changes we've been making to nudge Switchblade in a better direction thanks to your feedback. The full details will be in the next patch notes, our rough time frame for the launch of Season Two and these updates is early June! When we have an exact date, you'll be the first to know!
---
Turning up the heat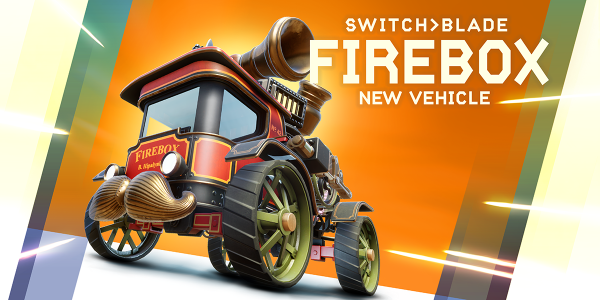 We're absolutely thrilled to reveal our next vehicle which will be launching alongside the Season Two update: Firebox, which is a fighter that rewards an aggressive playstyle, with a few tricks up its sleeve to help its survivability. Centuries before the Great Shift, Switchblade was played on horseback by aristocratic secret societies. Firebox was an early attempt to mechanise the sport by Bartholomew Hipalynk, the famed Victorian inventor. Such was his genius, little has needed to be done to make this beautiful historical artifact ready for the modern game!
Here's a brief introduction to the Firebox's toolkit:

Blunderbuss (Primary Fire) – Close-range shotgun that fires superheated scrap metal.
Overcharge – Rapidly fire your Blunderbuss to deal high burst damage.
Phase Shift – Movement speed is increased and attacks pass harmlessly through you. You cannot fire whilst using this ability.
Phase Bomb (Super) – A powerful bomb that sticks to the first surface it hits, then detonates with a devastating short-range explosion.
Flashpan (Passive) – Lifesteal when damaging enemy vehicles and mobs with your Blunderbuss.

We'll be talking more about the Firebox in our Discord server as we close in on its launch. We know the community has been eager for a new vehicle to help shake up the meta. We're excited to see what you all think of it and what strategies you come up with when it's released!
---
Switchblade's Future

What has been built with Switchblade, both in the game itself and in the community that's formed around it, is something that we at Lucid are immensely proud of and humbled by. We wanted to explore the concept of a fast-paced, vehicle action MOBA to see what kinds of crazy fun could be had whilst also building it from the ground up to be a compelling competitive gameplay experience.
Unfortunately, we've reached a point in the game's journey where it's not viable for us to continue the development of the game. It's never a reality any developer wants to face after they've poured their hard work and passion into a game. This is not a decision we've taken lightly. We're truly grateful for all the support our community has given Switchblade over the years, the game would not be where it is today if not for your enthusiasm for the game along with your thoughtful and considerate feedback which helped us to shape the game as it was being developed.
What this means moving forward is that support for the Steam version will end on 8th June 2020. It will be fully removed from the Steam storefront and the servers will be shut down. This is something we've already been discussing with the community on Discord.
On PS4, some of our larger purchase options will be removed from the in-game store and PlayStation storefront, including the vehicle packs. We will also be keeping the vehicle rotation fully open across all game modes to allow everyone full access to all the vehicles in the game. The Switchblade servers will remain active for at least one year and will receive a minimum of four new competitive seasons until June 2021. Ahead of June 2021, we'll review how the game is performing and judge if we want to continue extending support for the servers. Our community will be kept informed throughout this process.
Over the next year, Switchblade will not receive new features, content or functionality updates, besides the new competitive seasons outlined above. We will mainly be monitoring for critical bugs and for major server instability. To set expectations on the upcoming competitive seasons, the rewards will be a mix of Battle Pass One content and other content. We understand that many players in the community felt as if they'd missed out on this content in the past, so we felt that this would be a good middle ground to allow us to rapidly prepare 4 new competitive seasons in a short period of time for the year ahead.

Whilst it's certainly a sad day for all of us, the Switchblade team would like to say that we've really enjoyed the journey. We've learned a lot and got to know some fantastic members of our community whilst getting to explore the concept of creating a new game whose development benefited from all of your suggestions and feedback along the way.
We've still got plenty to look forward to in the weeks ahead with a revitalised Season Two of Competitive Mode and a new vehicle entering the fray!

Of course, we're still active on all of our social accounts and always happy to chat, so do swing by and say hello!
See you on the battlefield!
Ruley