Patch 01.25 (28951)
23rd July, 2019
PS4
New Features
Battle Pass.

Free Battle Pass for players to unlock content through progression.
Premium Battle Pass for extra rewards.

New Vehicle "Angel".
Updated upgrades menu

Players will now be informed of cooldown times.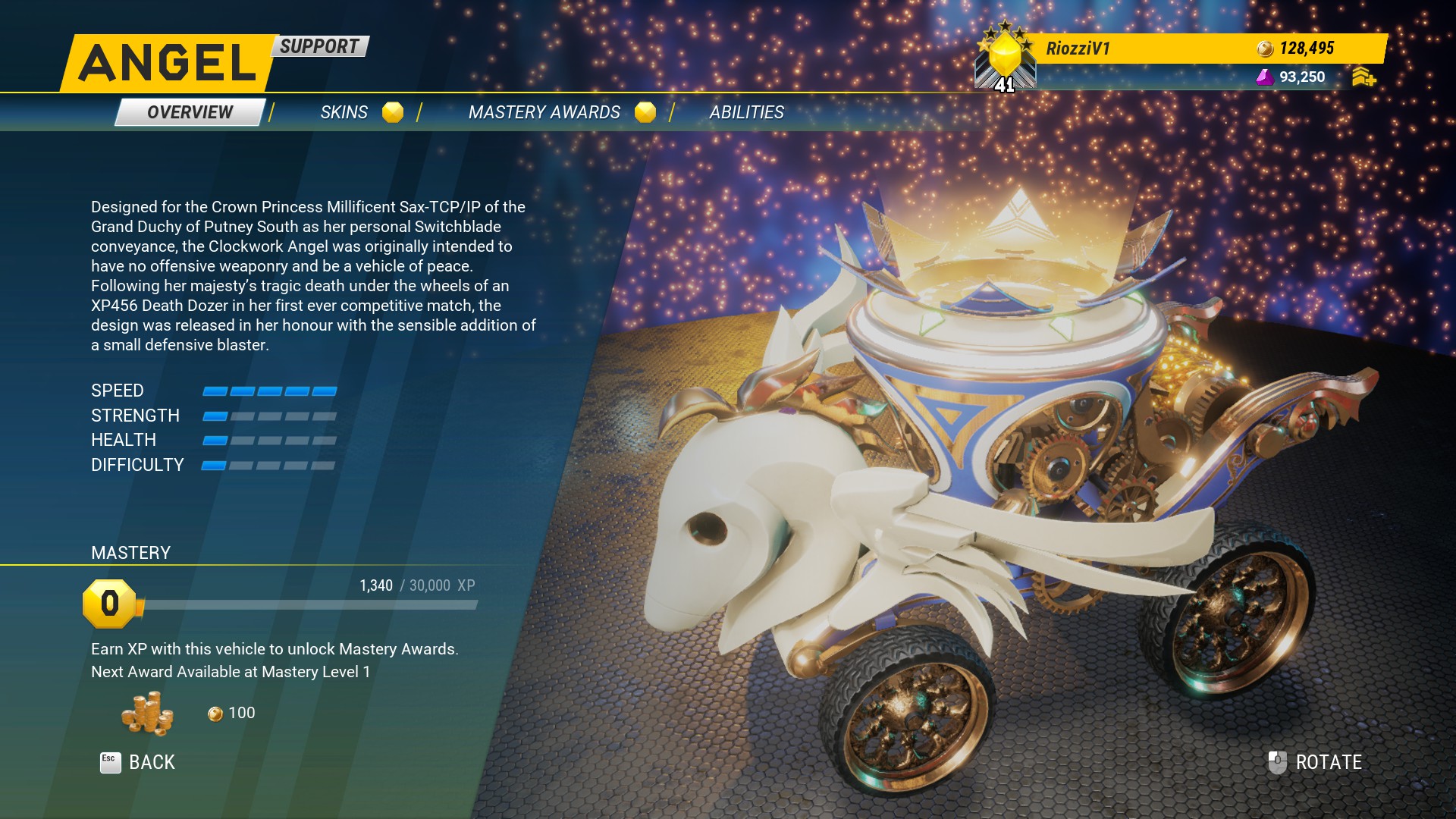 ---
Changes
Porcupine Ornate skin changed to "Gold" skin to match all other vehicles.
---
Battle Pass
Play Switchblade to level-up your Battle Pass and earn 50+ unique rewards!
Included FREE in Battle Pass 1:
New vehicle "Angel".
20 Standard cosmetic rewards.
9000 BP.
Purchase the Battle Pass and level it up to claim these Premium rewards:
4 Ultimate Vehicle Skins.
1 Ultimate Headwear.
11 Legendary rewards.
7 Epic rewards.
16 Superior rewards.
40,000 BP.
600 BC.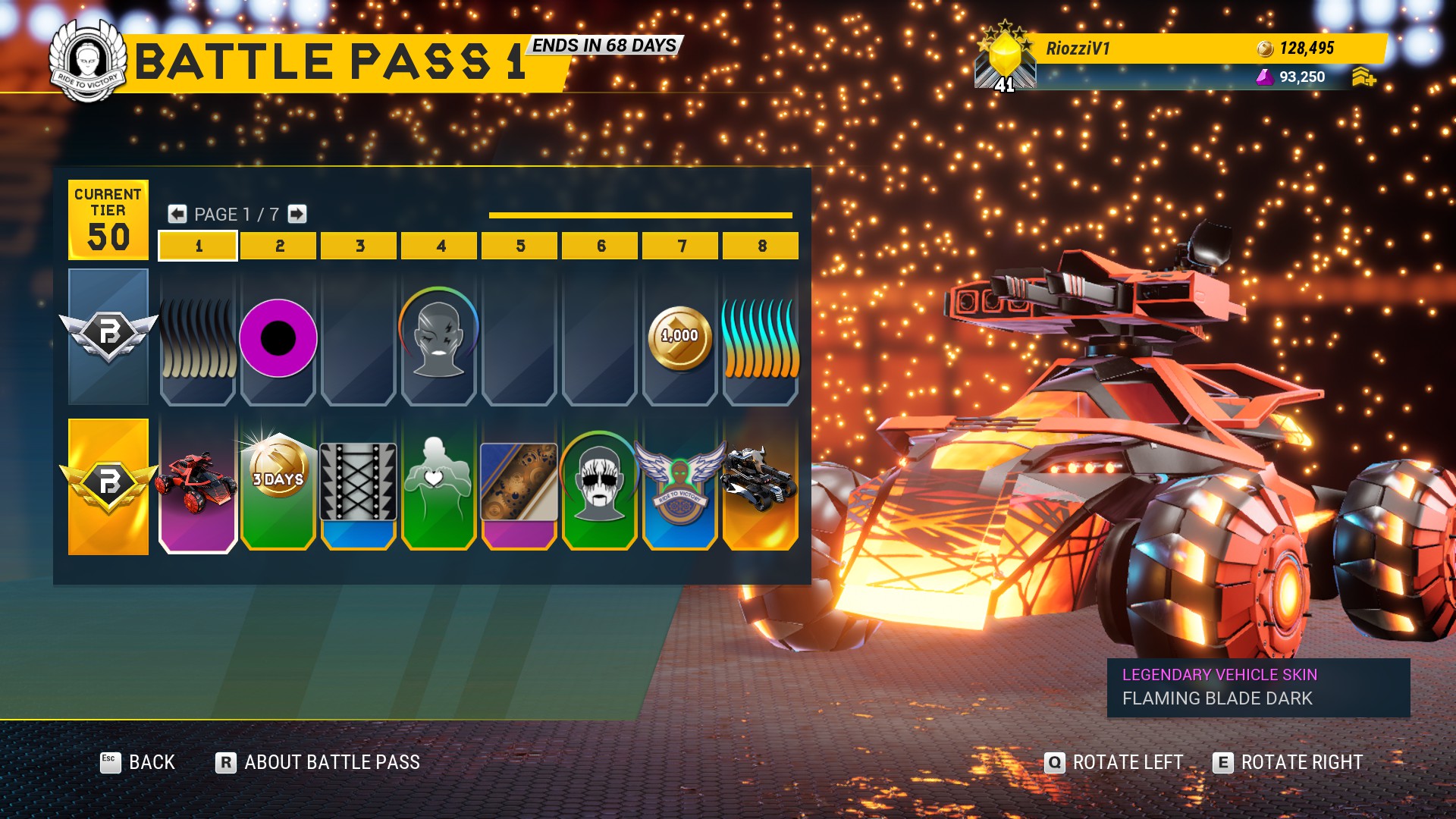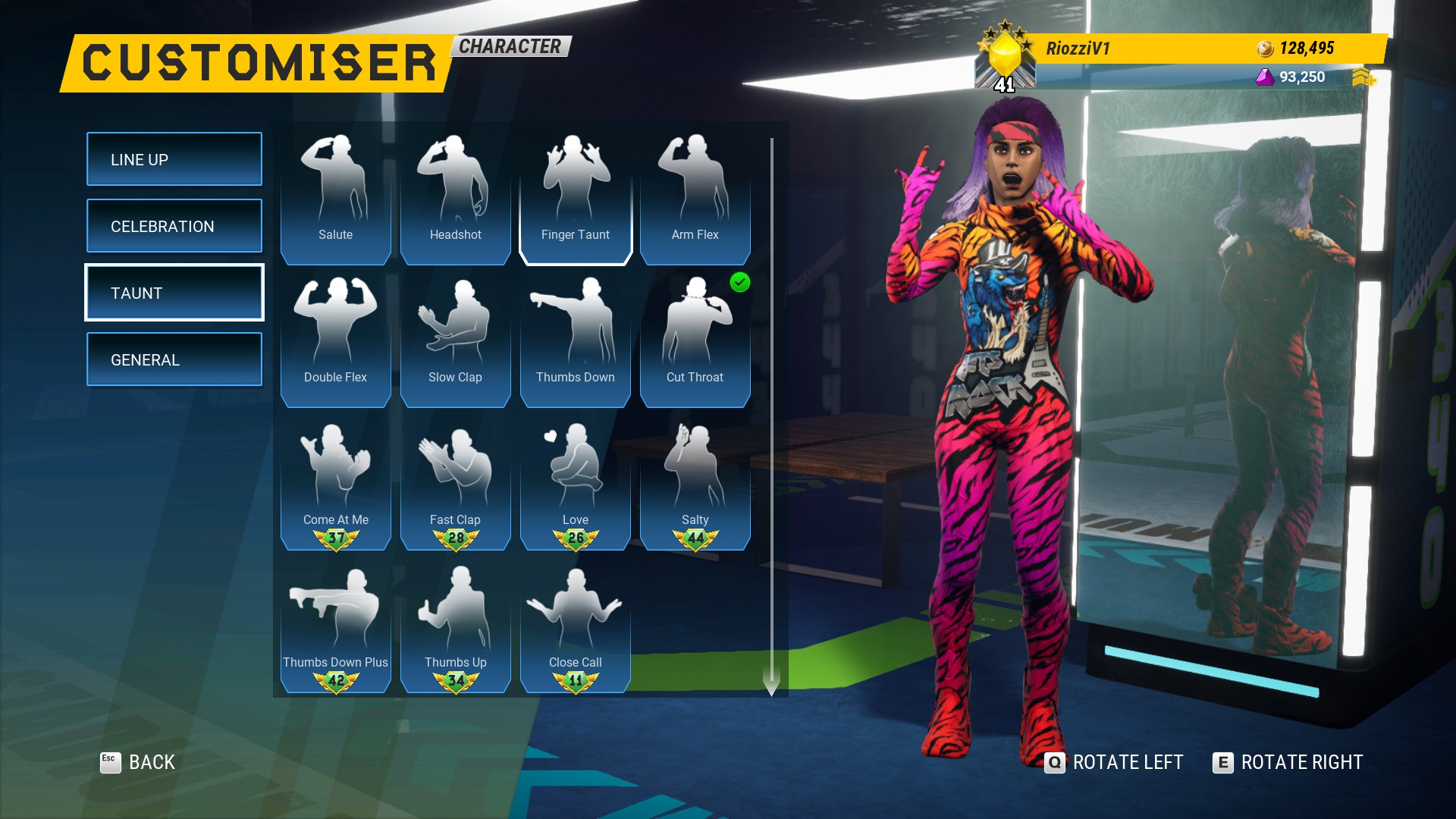 ---
Vehicle Balancing
Porcupine

General

Reduced total health to 2000.
Reduced movement speed by approximately 17%.

Striker

Reduced damage, max range and tether strength

Overdrive

Increased base movement speed to self and allies by 10%.
Increased cooldown increased by 4s.
Added HUD element to show number of allies being boosted.

Thunder Mines

Reworked to now drop 17 mines in a fixed pattern. In addition to dealing damage and applying Steering Lock, Thunder Mines now deal -5% to movement speed, stacking with each mine hit. Mines are now physical entities and hover just above the ground.

Lockdown Storm

Increased deploy time to 0.8s.
Reduced damage to 19DPS.
Reduced base lifespan to 8s.
Increased cooldown to 240s.
Increased cooldown reduction per upgrade to -15s.

Fortress

Bulwark

Rear Shield has been replaced by Bulwark. Bulwark is a large barrier shield that can be positioned in any direction around the player, protecting both the Fortress and any allies behind it. While Bulwark is active, the Fortress cannot attack; firing any weapon cancels the ability.

Thunder Pulse

General

Reduced overall health to 2800
Reduced shield:hull to 1200:1600

Raijin R-33

Damage/distance distribution is now weighted more toward close-mid range engagement.

Tractor Beam

Range increased to 50m
Cone angle increased to 10 degrees
Tractor beam strength has been increased and now behaves more consistently across all 5 ability levels, however, the Tractor Beam's slowdown status effect will now only last for 1s when a target exits the cone.

Mjolnir Missiles

Damage per missile increased to 20
Increased base cooldown
Upgrading now reduces the ability cooldown by 1s per level
Reduced Structure Damage (now deals equal value to all target types)
Homing range reduced to 150m

Thunder Pulse

No longer applies a "suction" force to targets caught in its area of effect.

SafeGuard

General

Safeguard no longer has rechargeable shields (total health remains at 4000).

Cerberus Cannon

Reduced damage to 120
Damage falloff now occurs much sooner and the amount of damage dealt at max range is reduced

Sentinel Drone

Safeguard can now have a maximum of 2 Sentinel Drones active at any one time and drones now have an infinite lifespan
Sentinel Drone's damage per missile reduced
Reduced Structure Damage (now deals equal value to all target types)
Drones can no longer attack while in their initial casting state

SMART Missiles

Base cooldown increased to 18s
Upgrading now reduces the ability cooldown by 1s per level

Rebirth

Casting Rebirth now roots the Safeguard to the spot.
Increased Cast Time to 1.6s
Reduced healing done to shields (now deals equal value to all target types)
---
Known Issues
Hall of Champions – Camera can clip through podiums.
Collections – UI on Boost screen doesn't update informing players they have applied a Boost after they have purchased one.
Customiser – Options occasionally need to be pressed multiple times before they open.  This is most noticeable on the Flight Suit options.
Battle Pass – Occasionally players may see their avatar appear in the background next to a vehicle.
Tutorial – Green "tick" icon missing when completing Tutorials.
Tutorial – Players are unable to manually fire the Orbital Cannon.  The weapon will fire automatically when aimed.
Audio – Music stutters on loading screens.
Game Play – Enemy vehicles' speed boost FX are missing.
Game Play – A.I seen to remain on starting platform.
Angel / Sundog – Purchasing the damage boost passive doesn't apply the 10% bonus to the damage or healing.
Art – Long grass appears black throughout map.
Localisation – Multiple text strings not localised.