Switchblade Update: Pied Piper Fix and UI Improvements
22nd March, 2019
Hey everyone,
We've been thrilled at the reception the community has given to the 1.17 update and have been seeing the number of players enjoying Switchblade in a party once again! Its been great seeing the various clips and discussions on social media and our Discord server. Today, we're starting the rollout of patch 1.18 which we eluded to in our February roadmap update. It's mainly a patch that's focused on things that happen behind the scenes such as improving stability and engine performance, but we've also been working on a few crucial fixes for the game along with several visual updates. The patch is currently live on Steam with PS4 hopefully receiving the patch by early April. You can check out the PC patch notes here!
---

Going Platinum
The Pied Piper achievement is now fixed on Steam, with the fix making its way to PS4 within the next two weeks! The delay on PS4 is unfortunate but unavoidable and we're working with Sony to get the patch released as soon as possible. Hopefully, the latest possible date the patch will go live is 3rd April. The new requirements for unlocking the trophy are to shepherd 6 mobs into Tower Doors in a single match, this has been reduced from the previous requirement of 10. We know this has been a hot topic of community concern, but you'll soon be able to finish off your achievement collection and earn that platinum trophy on PS4.

Spring Cleaning
When we first launched into early access, we had a lot of features and playlists on offer which presented us with a challenge for our user interface. In this latest update, we've taken the opportunity to revamp some of our menu screens, specifically the "Play" screen. We've taken away the inactive buttons for playlists that are currently not on offer and replaced them with a more minimalist style that will help better communicate the current, active playlists to players as well as giving more prominence to new playlists when they are added. We're also hoping that the new buttons and menu system give off a more polished aesthetics as we continue on our journey to our full release.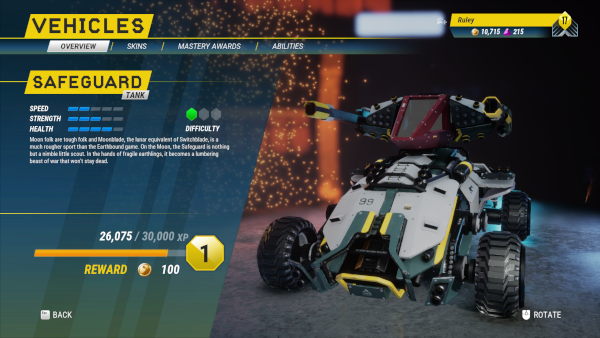 Collection Update
The final thing to receive a fresh coat of paint in 1.18 is the vehicle collections screen! You can now preview all skins that are currently available in the game on a 3D render of the vehicle. This has been changed from a static image preview. We wanted to give players a better way to inspect and assess vehicle skins before comitting to purchasing one. Whilst our previous system did a good job of presenting the skin in its best possible light, the new fully rotatable preview should give a better representation of how the skin will look in game.
---
The team has been jumping into a few games with the community when we've had the time and we're starting to knuckle down on preparing for our next update, The Sundog! We'll be showing it off a bit more over the coming weeks so be sure to let us know what more you'd like to know about it in our Discord server ahead of its release!
See you on the battlefield!
Ruley